I like it when happy history repeats itself, don't you?
we are taking what Everyone loved most about past workshops and creating a brand new experience
Our first workshop was hosted in May of 2014. A dozen of us came together for three days of flower bounty in a cozy house in the mountains. The student's work was lovingly photographed by Heather Payne Photography and featured in Style Me Pretty, Once Wed, Wedding Sparrow, Vale and Vine and Celebrate Magazine.
The flowers were amazing, but when I see these ladies, even three years later they comment about how that cozy house with a dozen friends was their favorite part.
Now we are headed back to a cozy house in Boone with a dozen friends.
Psst...looking for comments from past attendees?
we recommend a scroll through the #teamflowerworkshop feed
Our second workshop
Was hosted in April of 2015 at the North Carolina Arboretum in Asheville, NC. Twenty-seven attended and three of our five fantastic instructors, Holly, Ashley, Deedie, Marianne and Emily. Deedie, Marianne and Emily were 2014 Workshop attendees — so fun to have them back! Heather Payne, Elizabeth from Almond Leaf and Holly Carlisle all shot images that week. So many great pictures!
The farewell dinner was a particularly treasured time at this event. We celebrated being together, like the monarch butterflies in winter-time. We noted how they fly on their own path, but are all headed to the same place with similar goals. Sometimes they bump into each other along the way. Since the event, I've gotten to bump into eight of these happy people in my travels, and it was and still is so fun to spot them teaming up in different parts of the country without me.
This celebratory dinner is definitely on the agenda this year!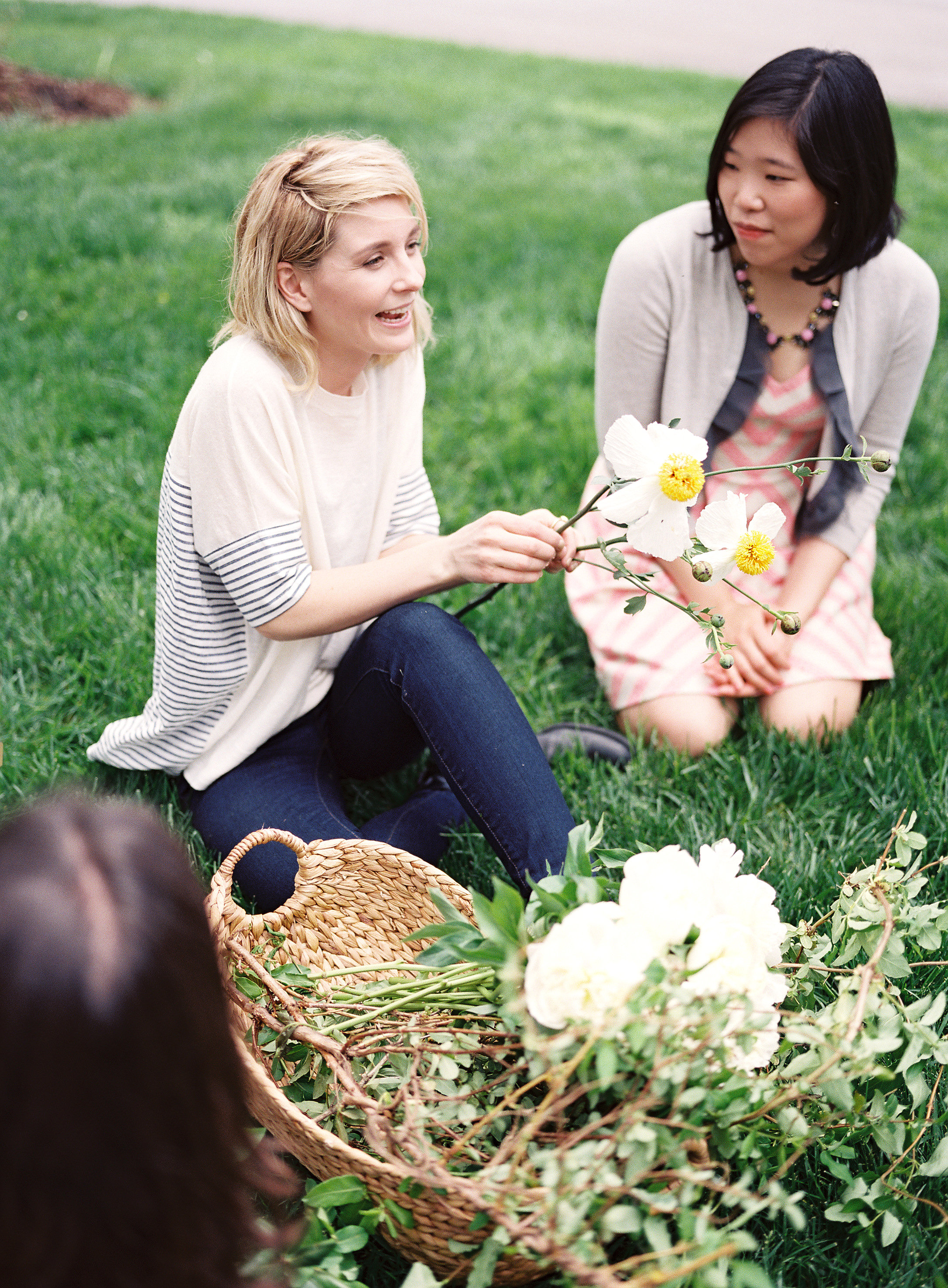 Our third workshop
In July of 2016 we were back at the North Carolina Arboretum, this time with Laura Helm from Ashton Events. Laura was a 2015 workshop attendee. She handled logistics, set changes and fun surprises for our group of 24. My friend Shawn from Full Bloom led an awesome group of Team Flower volunteers in creating mini arrangements with all our unused flowers and distributed them all over Asheville. Jake + Heather shot our images this year. It was so fun.
What was memorable about this event? Well, a lot of things. But what I recall most clearly was that moment I had alone before turning the lights off on all our flower deliveries. I stood there smiling as I imagined my treasured guests walking into the room the next day. There must have been twelve thousand stems singing together like a mighty chorus.
Students loved the curriculum, the flow, and I did too.
This year, we are repeating the Aware, Light + Free curriculum. I can't wait!
So there it is, the history
i'm happy and smiling about you being a part of these pictures soon
Your story with flowers is something I'm honored to be a part of. Your success brings me joy. Your bravery gives me hope. A life with flowers is nothing short of heroic. It's the work of a healer. Your designs, your peace, your joy and perspective are truly gifts to the world from above. Let's go love the world through flowers!
Need a second opinion?
From Kelly: If there is one thing you can count on with me, it's honesty. If, after reading through the curriculum and reviews, you aren't sure this is the best fit for you, I want you to click the red chat button on the bottom right and set up a time to call me. It's an investment and I know who this program serves best. If after assessing your true pain points, I recognize this program is not the best fit on the market for you, I will point you in the direction of one that is.
Comments from
past students
I was nervous about arriving for the workshop. Completely unknown place, all new people, new experiences, but also so exciting. As soon as we arrived and everyone introduced themselves, I knew it was going to be a great week. I could not have asked for a better experience. Team Flower Workshop was the best thing I have done for myself as a florist and business owner. I made friends that will last a lifetime, gained knowledge about the business and industry, and got to create arrangements with lots of smiles in a beautiful setting.
- Tessa Manton
Attending the Team Flower Workshop last summer exceeded my expectations. Kelly is a wonderfully talented floral designer and instructor. She can break down concepts easily and gives a lot of individual attention so that you get exactly what you need. I left feeling confident in both design and in running a flower centered business.
- Kelly Morrison
After attending the workshop, I was emboldened by the practical knowledge as well as the emotional support, and decided to establish Hallwood Floral. Another benefit of the workshop is being a part of Team Flower, and the confidence of knowing an army of people stand ready to encourage me and answer any question I can think of in the online community.
- Lillian Dompe
If you are having trouble deciding whether or not to attend the upcoming Team Flower workshop, I can tell you first hand that YOU SHOULD! I attended last year after being an online member for over a year and also taking several online classes. The workshop was invaluable both from a design perspective as well as a business perspective. Kelly is so knowledgeable about every aspect of the flower business and brings such insight while at the same time bringing light and laughter to all she is around. Whether you are an experienced florist looking for a way to improve upon your skills as a floral designer, or a beginner looking for guidance, this is the workshop for you! The accommodations in the AMAZING cabin home in the mountains of Boone are top notch and extremely relaxing. The perfect setting to play with flowers every day while making new friends!
- Kristi Kelly
The biggest thing I gained from the workshop was confidence. I've been in this business for over 20 years, and with so many young designers coming up and the constant style changes, I was doubting whether or not I still knew what I was doing. By attending the workshop, I was reminded how important a foundation of knowledge is and how powerful experience is. Through that, I gained a confidence that I knew what I was doing.
- Jackie Gardner
The Team Flower Workshop will change your life. Kelly has such a bright mind — everything she does is light and enthusiastic — there is brightness all around her. She is thoughtful, warm and teaches in a way that is easy to understand. You will learn to be brave. You will gain confidence. Your business will improve. You will fall in love with what you do all over again.
- Giti Gerami
Blog Posts by Students
The great thing about Kelly is she is around the whole workshop; she didn't just teach and leave, she was available to chat one-on-one and answer specific questions I had about how to move Fields in Bloom forward. It was the best thing I could've done for myself and Fields in Bloom. Kelly is so uplifting and really reminded me of the reasons I started doing flowers in the first place. Also, that I am on an extraordinary journey and for that I will be forever grateful.
- Brooke Grow
The best part was being able to work with such amazing materials. There were so many flower varieties in the most amazing colors. It was pure heaven to spend 3 days surrounded by other like-minded ladies.
— Wylde
It was definitely three days of gorgeousness! Kelly did not leave one petal unturned from the first night to the very last day. We had so many beautiful blooms to play with along with tips to grow our business.
— Accents Floral Design
These ladies were incredible. Each of them was so talented, so eager to learn and so excited to be there. The energy was contagious and I truly believe there was divine intervention in my decision to go. Pure bliss: surrounded by beautiful blooms and talented, creative women. So thankful for my time at Team Flower Workshop and the lessons learned.
— Kennedy Occasions
Industry Blogs
The gorgeous flower arrangements are the result of collaboration between all guests, who each had a creative hand in the process. Kelly did a sample arrangement with her planned color palette to show the group, and then let the guests take over. Kelly and Team Flower believe that creative undertakings are best tackled as a team with a unified front.
— Celebrate Magazine
Read more from Entertain Decorate Celebrate Magazine
A lot can happen when a group of artistic women gather together and create. The Team Flower Workshop is the incarnation of synergy and epitome of creative forces combining to imagine and execute something truly amazing.
— Once Wed
Whether you're setting your dinner table with a custom arrangement, stopping by your local florist for an armful of fresh-cut flowers to arrange on your own, or are foraging for something wild and wonderful to decorate with, these gorgeous creations are sure to inspire.
— Vale and Vine
As a result, we have a plethora of amazing bouquets to show off! Whether you're looking for pink, lavender, red, earthy tones, darker moody tones or a mixture of textures, there's a bouquet here for you.
— Wedding Sparrow
Student Work shot by Almond Leaf